Grand Lodge of Theta Xi Fraternity appoints Interim Executive Director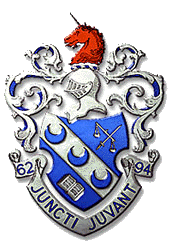 The Grand Lodge of Theta Xi Fraternity is pleased to announce that after the completion of a successful search process, it is appointing Charles "Charlie" Hiemenz III as the Interim Executive Director of Theta Xi Fraternity. In accordance with the Board and National Headquarters Staff, he will begin his term on November 3, 2014.
As the Fraternity's Interim Executive Director, Charlie brings an extensive and impressive non-profit and for-profit professional background totaling more than twenty years of experience. He is very involved as a civic volunteer in the St. Louis area, and comes to Theta Xi after his most recent professional role as Interim Executive Director of the World Pediatric Project. In addition, he has held volunteer positions with our partners in higher education at both Saint Louis University and Southern Methodist University.
In this leadership position, and serving as the executive of Headquarters Staff, Charlie will coordinate Staff operations while assisting the Fraternity in its search for a permanent Executive Director.
Dick Rushton, Theta Xi's National President, provided greater insight into the Board decision, "We welcome Charlie, and are excited to have him join us; he was selected both for his experience and excellence in non-profit operations and to support our long-term Executive Director search and the ensuing transition process. We are enthusiastically acting on the idea that involves someone from outside coming onboard in the near-term to offer a fresh perspective, as we move forward."
Charlie was hired to assist with the business and organizational needs of a vital, dynamic and growing Fraternity. He will work with the professional staff and volunteer membership to secure a productive and sustainable platform for the organization as we pursue the strategic direction ensuring success for the next 150 years.
Charlie commented on his new position by saying, "I am truly honored to be joining Theta Xi as Interim Executive Director and to be working with the Theta Xi staff and Grand Lodge members during this transition period. I expect to build on the fine and rich traditions of the Fraternity and to assist in identifying and hiring the very best full time permanent Executive Director in as expeditious a timeline as practical. I also look forward to meeting members, alumni and friends of Theta Xi during my time as Interim Executive Director."
---
---